Documents
Documents that come to life
Quip documents unite your team's work and communication, so you can get everything done in one place.

Teams using Quip have 38% fewer meetings*
Documents that live and breathe teamwork
Forget stale word processing files. Add spreadsheets, tasks, images and more to your document, and tell the whole story in one place.
Get dynamic with your data
Take your numbers further by adding spreadsheets to your documents. Then, reference the spreadsheet data throughout your doc to add context and visibility.

Manage your projects
Use Quip docs to drive everything your team is working on. Assign tasks along with due dates, share with external partners, and watch as your teammates make live edits to documents.
Work conversationally
Every document and spreadsheet has chat built in, so your team always has context. Conversations, decisions, and feedback stay where they belong instead of getting lost in email or chat windows.

Stay up to date
As work progresses, you'll never have to switch apps or dig through email for updates. Quip docs send customizable push notifications for important activity, so you can jump into the action at a moment's notice.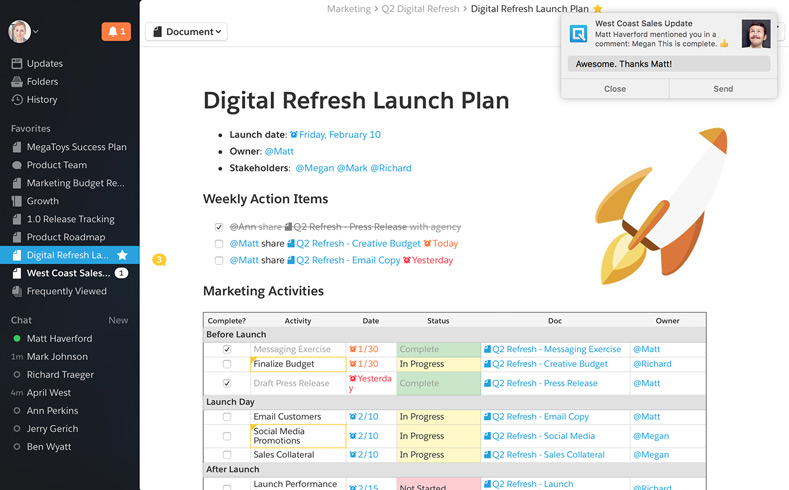 Work from anywhere
Access, create, edit, or discuss your documents anywhere, from your phone or tablet. Keep work moving forward, and never lose momentum just because you're not at your desk.


*Customer Relationship Survey conducted September 2016 among 683 customers.
"All of a sudden we're collaborating on a live document from our mobile device, from our laptops and desktops. Wherever we were, we were able to connect to our documents by Quip." Lew Cirne

Founder & CEO, New Relic

The stuff that counts
Everything you need to create useful documents with your team and work better together.
IMPORT / EXPORT – Bring things into Quip, or take them out, as you need to
VERSION HISTORY – Get a clear picture of who changed what, and when
PERMISSIONS - Set permissions at group, document, and folder levels
THEMES – Choose from 6 different typographies to view your work in
TASK LISTS – Assign tasks to teammates and track work to completion
OFFLINE – Drive your docs forward with Quip's auto-syncing desktop app
See for yourself
Quip documents are smart, contextual, and full of life. Try Quip with your team for free today.